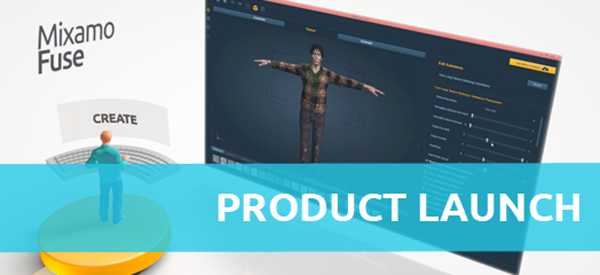 Today Mixamo is launching major additions to our end-to-end solution for 3D character creation. This means lots of good news for the All Access user experience, making it easier than ever to get quality characters into your projects. Upgrades include:
But Why, You Ask?
"Since 2008, we've been developing a solution that democratizes the 3D character creation process for artists at all levels. And with the most recent updates to our patented technology, including the launch of Fuse 1.0, we can now offer an online solution that includes everything artists need to create highly detailed, fully rigged and animated characters in minutes." said Stefano Corazza, CEO and co-founder of Mixamo, Inc.
Fuse 1.0
Fuse version 1.0 includes a brand new asset import pipeline that enables artists to import body models, clothing, accessories and textures into Fuse to combine and customize with the existing Mixamo content. The Fuse import pipeline will support industry standard .obj files created in most 3D packages.
"Our new import pipeline opens our end-to-end solution to the world of 3D artists. Fuse now becomes the first step in the Mixamo process for the creation of any user-generated content, not just content added to the library by Mixamo," said Brent Jentzsch, Creative Producer at Mixamo. "Artists can now import unique IPs from games or characters from other 3D collections, and modify them, rig them and animate them, making the options for character creation virtually endless."
The asset import pipeline feature is one of many enhancements to Fuse version 1.0, now available to All Access members to download by going to My Software.
Fuse 1.0 vs. Fuse Basic
What are you missing out on if you only have Fuse Basic? For a full list of Fuse 1.0 features and content available to All Access members, click here.
The Decimator - Level of Detail Customization
Mixamo seeks to make your production pipeline easier. Creating LODs of your characters is a pain and it's time-consuming. With that in mind, we bring you The Decimator, a new level of detail (LOD) online service.
The Decimator allows artists to adjust the level of detail on their models before downloading that asset for use in game engines and gaming platforms. This standalone feature is being released as early access technology to Mixamo's All Access members. Mixamo developers welcome feedback on the product via The Decimator survey.
New Monthly Pricing
You asked and we listened. Now in addition to the yearly payment of $1499, Mixamo now offers the All Access subscription in monthly payments of $150/month for a one-year (12 month) subscription.
Get the entire Mixamo suite with All Access- Fuse 1.0, the Auto-Rigger, the Animation Collection, the Decimator and Mixamo's Face Plus facial animation technology. This subscription level enables rapid iteration for any project involving characters.
We hope this offering makes All Access more accessible to a broad range of Mixamo customers. Don't have All Access yet?
And to wrap it all up, here is a video made by Mixamo using Mixamo technology and about what else? Mixamo! A tiny team of 3 people put this video together using our complete solution: Fuse, Auto-Rigger, Animations, Control Rig Scripts, and Face Plus. Enjoy.