Tommy Wong is the first place winner of the Mixamo Space Battle contest. We were simply amazed at the overall presentation, creation and look of the character. His skills in Blender are amazing so we decided to take some time and ask him a few questions and let people in on his secrets.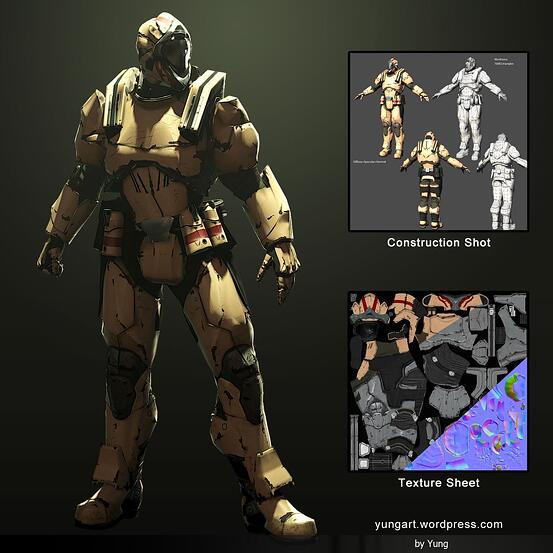 Mixamo: Can you tell us about yourself?
Tommy Wong: Hi there, my name is Tommy Wong, or Yung as I'm known in a few forums. I live in Kuala Lumpur, Malaysia where the weather is either raining, hot and humid or VERY HOT.
I've been dabbling in 3D for 5 years or so now, and I focus mainly on character art, organic or hard-surface. Before going full time freelance, I've previously taught
3D modeling classes and I've also worked in numerous local 3D animation houses as a 3D generalist.
I am also an avid gamer and toy collector, and if you want my money, just throw in cool robots and I'll open up my bank account for you! I am currently
studying as much as I can about game design and game development, and I hope to start developing my own mech games soon.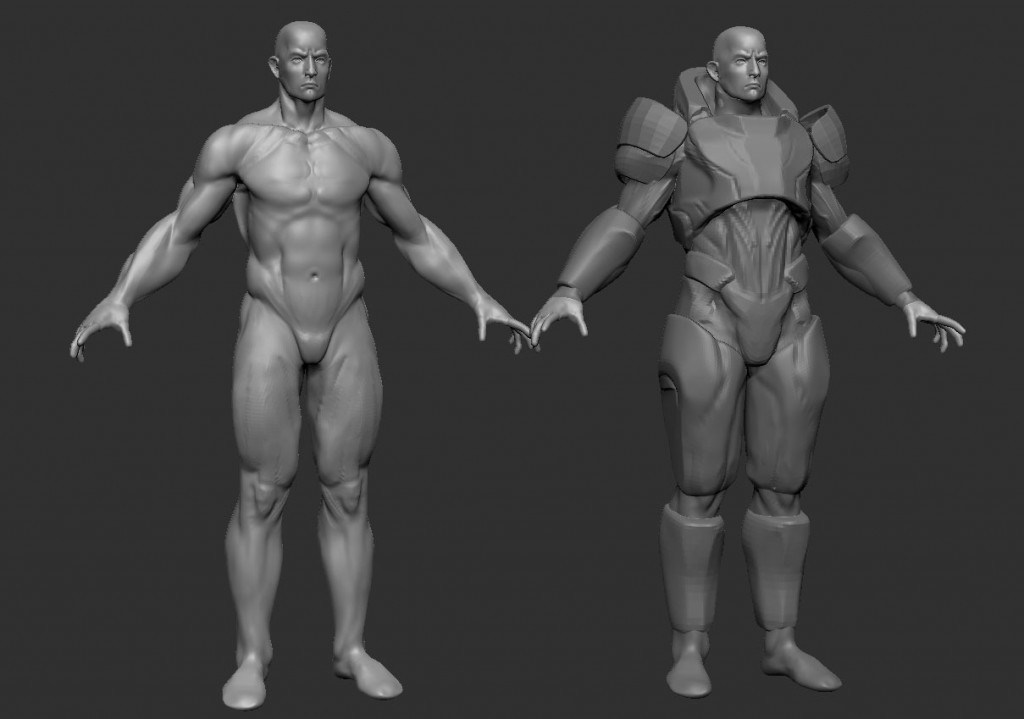 M: How did you hear about the contest?
TW: I stumbled upon Mixamo's competition by chance! The instant I saw the theme and I was hooked, though I had a hard time choosing between the vanguard or the space pirate!
I wasn't able to join the previous Mixamo's competition due to work so I was determined to join and finish this one. The awesome prizes was an icing on the delicious cake!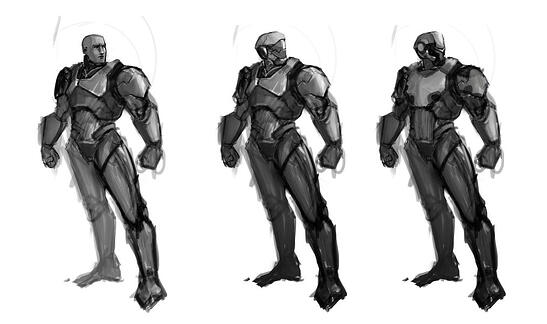 M: What software(s) did you use and why?
TW: For this character, Vanguard, I used the latest stable release of Blender for modeling. I was a big fan of Blender's modeling tool though I found my workflow seriously hampered by the lack of ngon support in Blender. Imagine my joy when the new Blender finally has Bmesh integrated! I immediately downloaded Blender and start working on my entry. Texturing is done in photoshop and finally it's rendered with the amazing and powerful Marmoset's Toolbag.
M: How long did it take you to make this character from start to finish?
TW: It took me about two intense weeks to do this character from start to finish. I actually started early when the competition was just announced, but I was caught up with work and I wasn't happy with my initial design. At the third week, I quickly panicked and realized how little time there's left for my entry! Worst of all, I barely started on the 3D side except for a quick sculpt! So I quickly hacked away at my entry! I was really thankful when Mixamo decided to extend it by one week, but as life loves throwing you a challenge, I am heading to Japan the same week! Believe me when I saw there's A LOT of walking involved when you are backpacking to Japan. So with sore feet and tired eyes, I slugged away at my entry, polishing it as much as I could before I'll faint.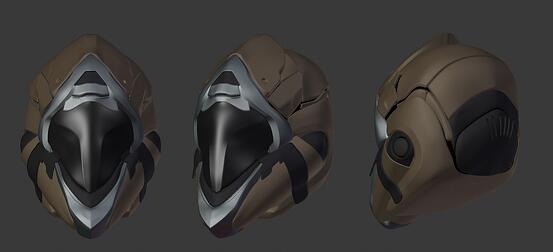 M: What do you draw your inspiration from, movies, games, artbooks, etc...?
TW: I recently completed Mass Effect 3 and I was very inspired by the game! I downloaded any interesting armor designs I could find, and with Mass Effect's artbook by my side, I dissect,studied and even copy what I could learn from Mass Effect's design and try to infuse my own design into the Vanguard. One part of the armor that I focus a lot was the helmet, and I build it based on dragons and aviator helmet.
M: Tell us about your process for creating a character, do you create any concept sketches or work straight ahead?
TW: For most projects, I will start out by spending a few days collecting images and references while I day dream about the design. I will then sketch and explored shapes while I try to flesh out the concept. Once I have a solid concept, I proceed to fleshing out the model in 3D, and usually the model changes quite frequently as I continue to refine the shapes. I find working in this manner sets my mind on a path and yet allows me the experiment in 3D (which is dangerously slow for me).
M: The final beauty shot looks fantastic, what kind of lighting set up and rendering system did you use?
TW: Thanks! I am glad you like the render! The lighting was a very simple three point light setup. I wanted a strong silhouette look with the lights from the top, casting 12pm shadows. I then added a small fill light in front of him, and another rim light from behind. All of this are done in Marmoset with minimal touch up in Photoshop.
M: What advice do you have for others looking to get into 3D art or get better?
TW: I don't think I am the best person for advice, but here's my opinion I would like to share. If you are just breaking into 3D, or would like to try this amazing medium, my advice is focus more on foundation of art. Study and sketch a lot on human anatomy, proportion, light and shadow, design, color theory. Software like Maya and Zbrush is easy to learn compared to these. Maya, Zbrush, Photoshop is just a sword, a tool, while the art foundation is the bread and butter monster slaying skill, like a fireball spell. Nothing will go wrong if you invest in those. I should be listening to my own advice more.
M: Will you be joining us for future contests?
TW: Definitely! I am already excited that you mention there's future contest, and I look forward to participating! Thank you for having me!
M: Thank you for taking the time to talk with us about this and we look forward to seeing you in our next Contest starting next month. Anyone interested in joining the contest and being notified of it when it starts should sign up on Mixamo for our bi weekly newsletter for contest coverage and dates! Thanks again and congratulations Tommy!